Wanted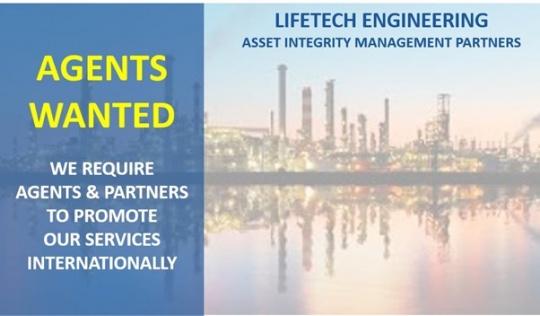 LifeTech Engineering provides Asset Integrity Management (AIM) services, software & training to the world's Oil & Gas industry – Upstream, Midstream, Downstream. We are improving asset safety and saving our clients millions on inspection costs.
Our AIM program includes:
Risk Based Inspection (RBI) using LifeTech RBLX software
Non-Intrusive Inspection (NII) using LifeTech RBLX-NII software
Fitness for Service (FFS) using LifeTech FITest software
Ageing & Life Extension (ALE) using LifeTech FUSION software
Pipeline Integrity Management using LifeTech RBLX software
AIM & API Online & Classroom training courses
We can also integrate our solutions into a Client's preferred software.
We Require Local Agents to Promote Our Products & Services Internationally.
If you know the Oil & Gas industry and believe you can effectively promote our products & services, then we would like to talk to you.
Contact: Keith Walton, Business Development Manager.
Email: keith.walton@Lteng.co.uk
Website: https://www.lteng.co.uk/
LifeTech Engineering Ltd.
Enterprise Centre, Exploration Drive,
Bridge of Don, Aberdeen, UK - AB23 8GX
Phone: +44 (0) 1224 824112
Send Us Your Enquiries