RBLX is a quantitative/semi-quantitative RBI software suit based on the industry standards which identifies applicable damage mechanisms, calculates corrosion rates, determine damage susceptibilities, estimates current and future risks, and recommends optimum inspection plans.
Our autonomous, cloud-based, RBLX software offers you immediate connectivity.
It is fast and highly competitive allowing you to search and route-out historical evidence.
This means you can process your data quicker and with more accuracy and reliability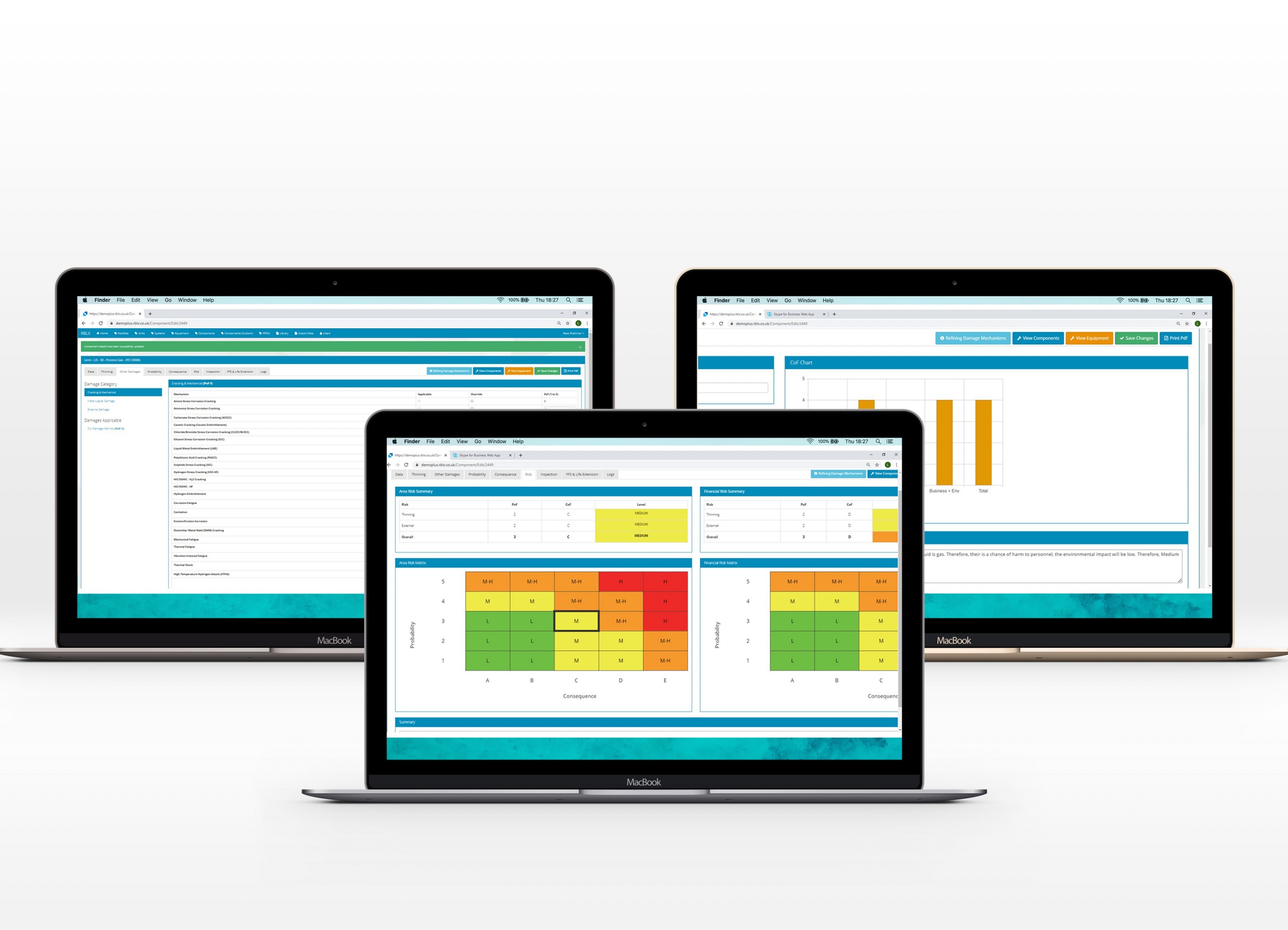 Imagine the impact of:
Monitoring and predicting equipment failures
Preventing potential shutdowns
Reducing turnarounds
Our RBLX asset integrity management software will get you back on track to full production
We provide mitigation & inspection planning based on your liabilities, risk, and the potential outcome of equipment failure that impedes production levels. Receive support, training, and optimisation tools to prolong the life extension of your asset.
With our RBLX software for Asset Integrity in the UK, with a single application, you can efficiently manage your upstream to downstream, pressure, and non-pressure systems. By implementing RBLX, corrosion, and crack formulations perform risk assessments at a very early stage. The effect can be transformational.
The software dashboard highlights:
Integrity actions
Associated risks including
Exposure to corrosion
Degradation
Potential pressure loss and failure
Through continuous monitoring strategies and systematically focusing on inspection & maintenance operations, optimum production is boosted.
RBLX is an advanced asset integrity management and risk-based inspection software solution.
RBLXTM KEY FEATURES
RBLXTM is continuously being updated and modified based on clients' feedback. The main features are listed below:
Web-Based with Robust Security (can also be installed on client-server)
Standard RBI Solution Compliant with API 580, API 581 & ASME PCC-3
Includes API 571, API 581 & DNVGL-RP-F116 Damage Mechanisms
Contains Additional Damage Mechanisms based on API 579 (e.g., Creep)
Includes Pipeline Module
Bespoke Module for Non-Pressure Systems (e.g., Structures)
Calculates Corrosion Rates and Crack Susceptibilities
Includes Qualitative, Semi-quantitative and Quantitative RBI Methods
Detailed Assessment of Probability of Failure (POF), Consequence of failure (COF) and Area & Financial Risks
Project and Sketch Future Risks on Risk Projection Graph
API Standard 5×5 Risk Matrix
Generate Risk-Based, Rule-Based and Corrosion-Based Inspection Strategies
Includes a Unique Non-Intrusive Inspection (NII) Module based on HOIS RP103
Includes Excel Import & Export Facilities, which can be Integrated with a Client's CMMS Software (e.g., SAP and Maximo)
Inspection Plan, WSE and NII Reports in Word & PDF Formats
Determines Current & Future Risks – also represented graphically
Comprises a Dynamic Dashboard for easy review of the current condition
Flexible to Customise – use latest IT Development Technologies
Integrated with LifeTech FFS & Life Extension Software Solutions
Database Facility for Inspection & NDT Data
Library Facility for Unlimited Document Storage
Applies to: Upstream, Midstream & Downstream
RBLX Current Modules
RBLX™ Pressure Systems (Pressure Vessels, Piping, Heat Exchangers, Columns, Fired Heaters);
RBLX™ Atmospheric Storage Tanks;
RBLX™ Pipelines;
RBLX™ Pressure Relief Devices (PRDs);
RBLX™ Bespoke Module (e.g. for Structures)
RBLX Key Features:
Identify Damage Mechanisms
Assess the Probability of Failure (POF)
Assess the Consequence of Failure (COF)
Assess Risk of Failure
Plan Inspection & Mitigation
Contact Us
Email Us
Other Softwares
LifeTech Engineering Ltd.
Unit 13, Innovation Centre,
Aberdeen Energy Park,
Exploration Drive, Bridge of Don,
Aberdeen, AB23 8GX, UK.
Phone: +44 (0) 1224 824112
Send Us Your Enquiries